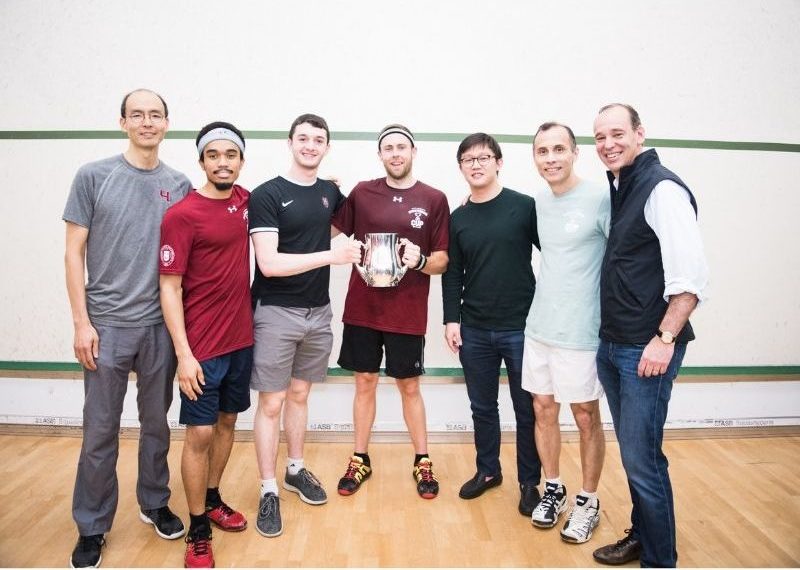 The Harvard Club takes top honors in the squash and fundraising competitions, raising over $200,000 in advance of the May 11 event. From left: Andrew Bahn, Terrance Rose (StreetSquash '12), Sam Scherl (Harvard University #4), Ryan Cuskelly (World No.19), Bryan Koh, (former Harvard University #5), and Board Members Richard Chin and Peter Kagan.
Photo Credit: Rob White Photography
On Saturday, May 11th, StreetSquash hosted the 11th Annual StreetSquash Cup, the organization's largest tournament-fundraiser. The event featured a talented group of competitors from ten participating teams, and raised an impressive $1 million to benefit StreetSquash's programming.
"The StreetSquash Cup would not be possible without the support of hundreds and hundreds of individuals who believe in the long-term, intensive work we are doing every single day with our students," shared Founder and Executive Director George Polsky during the opening ceremony. "From the team captains, to the players, supporters, staff members, and all of our students, we are so grateful to have your support."
Polsky also recognized the pros who donated their time to compete in the event. Per tradition, each team features a professional squash player competing alongside four amateurs and a StreetSquash participant. This year, the pros were some of the strongest to date, including touring pros Chris Binnie (former World No. 65), Ryan Cuskelly (World No. 19), Chris Gordon (former World No. 44), Chris Hanson (World No. 71), and Rasmus Hult (former World No. 143). The Cup also saw the return of Andrew Douglas, Penn #1, as well as perennial favorites Bradley Ball (former world no. 23), Adrian Grant (former World No. 9), Wael El Hindi (former World No. 8), and Alister Walker (former World No. 12).
StreetSquash was also pleased to welcome back eight alumni: Mawa Ballo (Connecticut College '18), Danny Cabrera (Hobart and William Smith '16), Rakey Drammeh (Bates College '14), Joetta Francis (Purchase College '20), Lonnie Gibbs (Wesleyan College '10), Jazmin Matos (Franklin and Marshall '16), and Terrance Rose (Hobart and William Smith '18), in addition to two StreetSquash seniors, Zeinab Bakayako (Trinity College '23) and Geraldo Reid (Syracuse University '23).
The ceremony concluded with the presentation of the Founders Cup, awarded each year to the team that raised the most amount of funds. This year, the Founders Cup returned to the Harvard Club, co-captained by Richard Chin, Peter Kagan, and Linda Robinson, who raised over $200,000, through 50 individual donations. It was a triumphant return to the top of the fundraising ladder for the Harvard Club, who had previously secured the Founders Cup for the first time in 2017.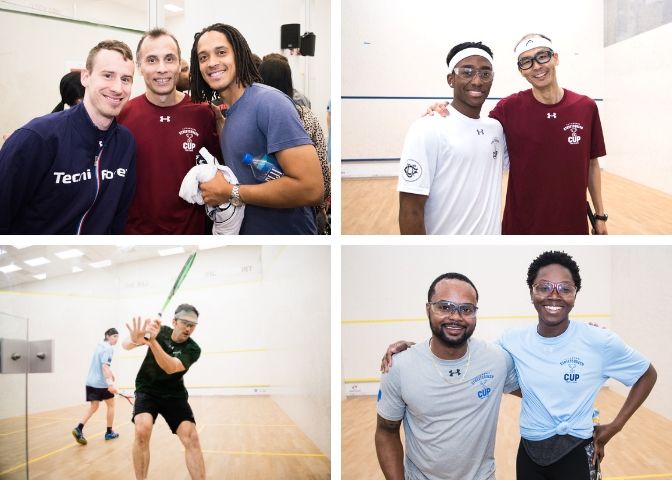 Clockwise from left: US National Team Professional Chris Gordon, Harvard Club Head Pro and founding board member Richard Chin, and former World No.12 Alister Walker; Geraldo '19 with Harvard Club competitor Andrew Bahn; World No. 71 Chris Hanson; Alumnus David Nash '08 with
board member Rakey Drammeh '10.
Following introductions, the ten teams spread throughout the eight-court facility to launch into the squash competition. The tournament began with an unprecedented showing from the StreetSquash Young Leadership Committee (YLC), and the University Club, both of which took a strong lead in the Red Division. Meanwhile, the Blue Division featured head starts by Samsung NEXT and the Goldman Sachs teams, although the Women All-Stars team were quick to make a play for a comeback.
It was not until the professionals took to the courts that the most competitive matches tipped the scale. Team Goldman Sachs secured the Blue Division championship trophy over the Women All Stars, due in part to an impressive showing from Penn #1 Andrew Douglas as well as StreetSquash alumna, board member, and former Bates Squash captain Rakey Drammeh.
In the Red Division, the competition came down to the wire, with an even split between the Harvard Club and Union Club teams. In a nail-biting seven-minute match, World No. 19 Ryan Cuskelly emerged victorious over Union Club Head Pro Bradley Ball. The decisive win secured the StreetSquash Cup for the Harvard Club for the second time in the event's eleven year history.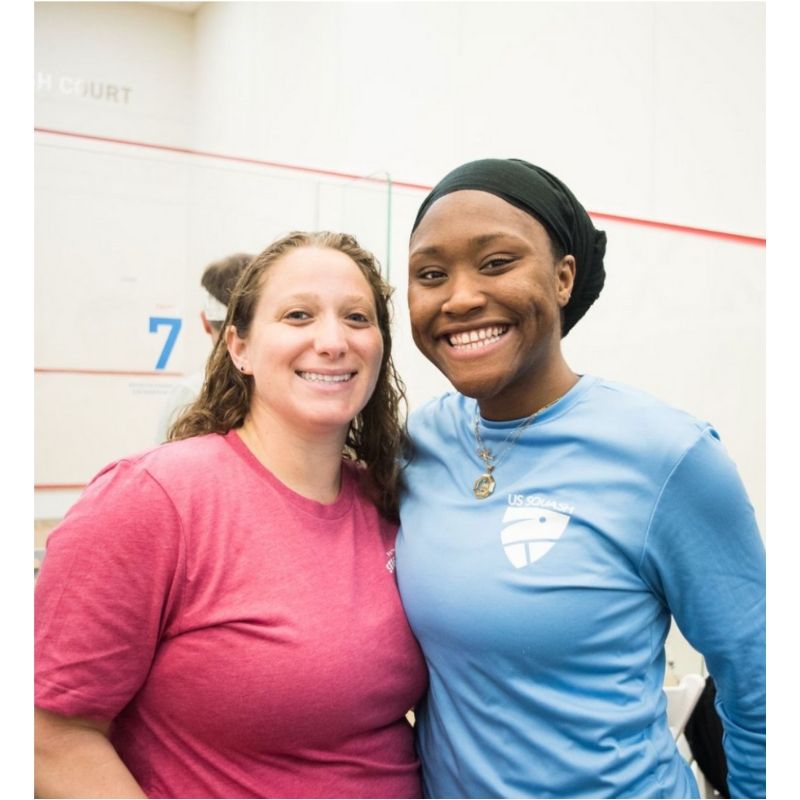 Senior Director of Social Work Sasha Diamond-Lenow catches up with Mawa Ballo, StreetSquash '14, Connecticut College '18.
As the tournament came to a finish, players and spectators gathered back on court for closing remarks from StreetSquash alumna Mawa Ballo.
"StreetSquash inspired me to fulfill my passion for teaching, and that's why your support today is so important," Mawa shared. "I encourage you all to spend your time here meeting students, and continue visiting the building because you're helping so many students get inspired to follow their dreams just like I have with teaching."
A graduate of Connecticut College, Mawa double majored in Government and African Studies and competed at the top of the women's varsity squash ladder. Mawa now works and coaches squash at the Fessenden School in Newton, Massachusetts.
By the conclusion of the event, StreetSquashers, board members, supporters, families, alumni, and friends broke bread – and ribs – for the annual Blue Smoke BBQ buffet.
"It is truly such a phenomenal event from start to finish," shared StreetSquash Board Member Richard Chin. "While the competition continues to improve year after year, it is the time spent off the courts that I enjoy much more. I loved catching up with so many StreetSquash alumni, many of whom I knew when they were learning to play squash as children. Now, they are young men and women with successful lives and careers. It is such a special event and I feel grateful to be a part of it."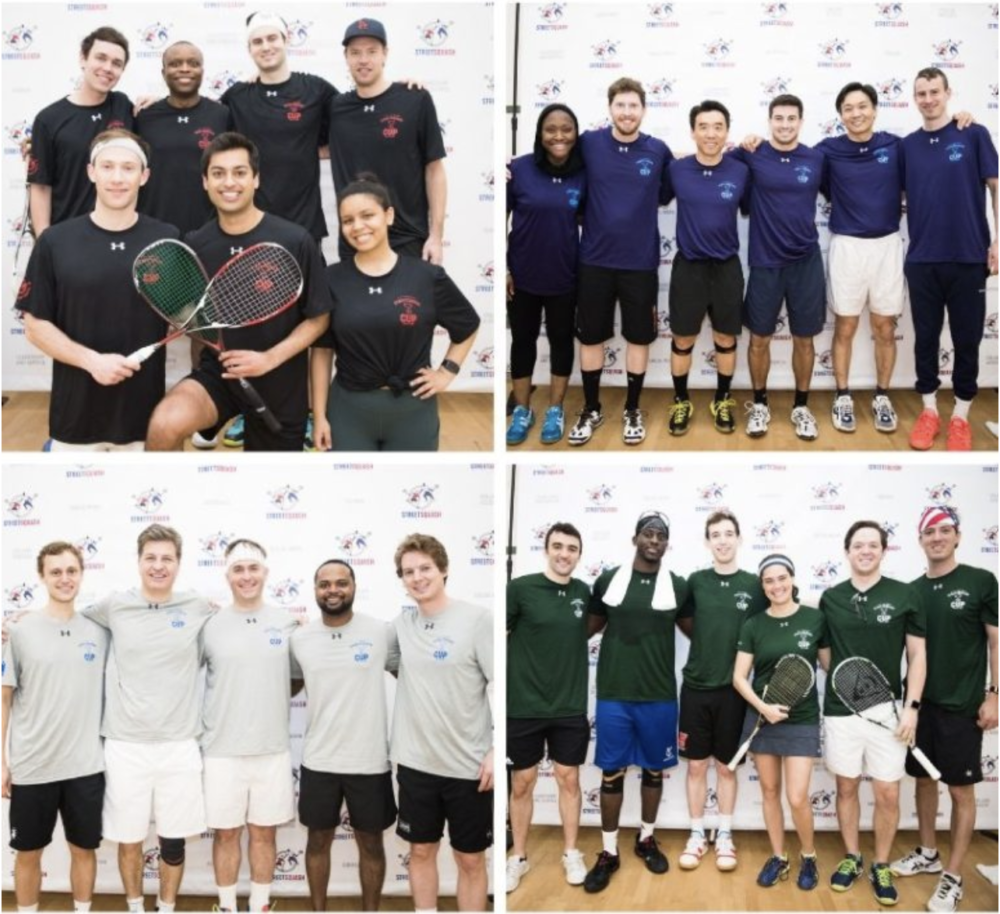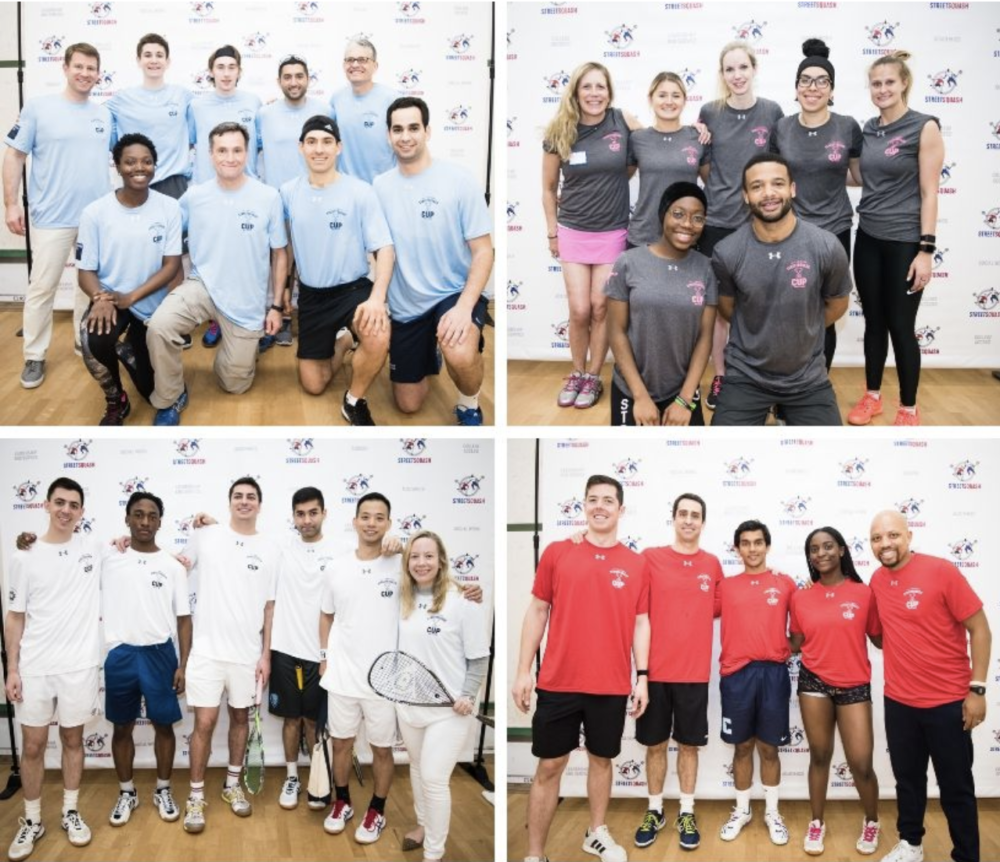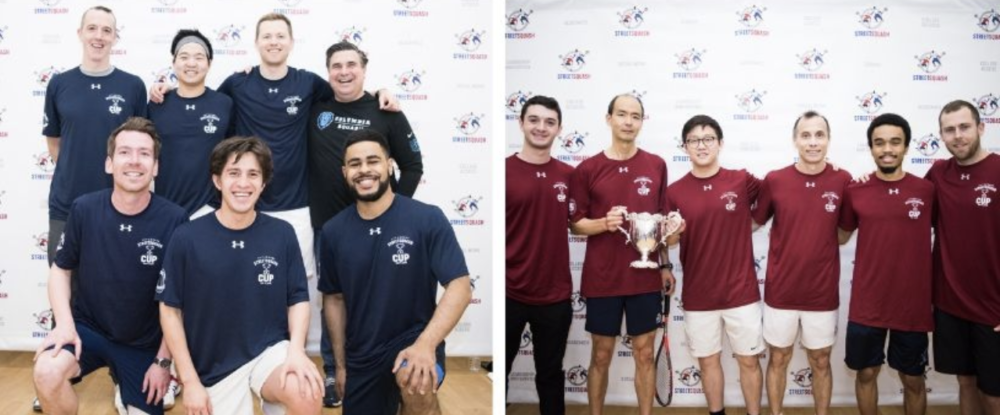 StreetSquash Cup Teams: The StreetSquash Young Leadership Committee captained by Ron Kamdem and Chandler Lusardi. Samsung NEXT captained by board co-chair David Eun and Jason Michas. Team Barclays captained by Tim Luke. Team Apollo captained by Katie Newman and Reed Endresen. Team Goldman Sachs captained by Craig Broderick. The Women All Stars captained by Jennifer Gabler and Lisa Hintz. The University Club captained by Jonathan Berger, Andrew Fink, Randy Lim, and Abigail Darby. The X Factors captained by Simba Muhwati. The Union Club captained by Andrew Fink. The Harvard Club captained by Peter Kagan, Linda Robinson, and Richard Chin.